LLast month, British cinema lost one of its greatest and most singular screen poets. From an astonishing trilogy of first short films (Children; Virgin and Child; Death and transfiguration – all available on BFI Player) to his last feature film, Blessing (2021), Terence Davies seamlessly blends personal memories with broader universal truths. His subjects ranged from autobiographically inspired portraits of post-war working-class life in Liverpool (Distant voices, still lifes1988; The long day ends1992) to radical literary adaptations (of the film Georgia by John Kennedy Toole) The Neon Bible, 1995, currently broadcast on Channel 4; or Lewis Grassic Gibbon's Scottish masterpiece Sunset Song2015) and intimate portraits of real authors, notably the American poet Emily Dickinson, brilliantly interpreted by Cynthia Nixon in A quiet passion, 2016. Yet each of his films was deeply and distinctly personal. No wonder Jack Lowden, who played Siegfried Sassoon in Blessingtold me that after immersing himself in his subject's diary in preparation for the role, he gradually realized that "I was essentially playing Terence."
Despite critical acclaim (a Timeout ranked magazine poll Distant voices, still lifes as the third greatest British film ever made), Davies – like so many of his compatriots – struggled to get his films financed. Following the release of her cleverly sharp adaptation of Edith Wharton's novel The house of joy (2000), with Gillian Anderson's career-best performance, it would be eight years before the arrival of her next film, the sublime documentary Of time and the cityand three more ahead of his next dramatic feature, an acclaimed version of Terence Rattigan's play The big Blue (2011). He may have been a national hero among filmmakers, but Davies had to fight to make each film.
My fondest memories of Davies, whom I had the pleasure of interviewing on several occasions, come from a trip we took together to Liverpool on the eve of the British release of Of time and the city. An intensely personal collage of archival footage played to a soundtrack of music, quotes (Joyce, Shelley, Chekhov, Engels) and his own musings, it was my favorite film of the year; a love song and eulogy to the town of his childhood. Davies, whose producer Roy Boulter memorably described Of time and the city as dealing with "the loss of innocence and age", had agreed to be filmed guiding me through his early years – a film buff's dream!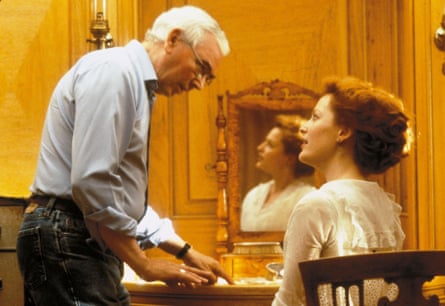 On Kensington Street where he grew up, he observed that the houses and sidewalks of his childhood "live within me with the most incredible intensity", adding that "I will always try to return to the four years when I was happy, from seven o'clock to eleven o'clock. He showed me a garage where, at training age, he saw three men, shirtless, building a wall, "and I knew right away that I was gay – although I didn't know how that was called. And my paradise and my happiness came to an end.
Raised a devout Catholic, Davies struggled to reconcile his faith with his sexuality, remembering years spent crying and praying until his knees bled, "but no peace came, no help 'has been granted'. We walked from his childhood home to the church where he once worshipped. "It disgusts me now," he told me. "All this empty iconography. This did a lot of damage to me.
From the church we walked to a now deserted movie theater where he spoke enthusiastically about his childhood within walking distance of at least eight cinemas. For Davies, cinema has become the new place of worship. "And my love was as muscular as my Catholicism," he says in Of time and the city, "but without any of the drawbacks. Musicals, melodramas, westerns – nothing was too rich or too poor for my rapacious appetite. And I gorged myself on a frequency that that would shame a sinner!»
This muscular love of cinema, with all its taste and passion, will be found in all of Davies' work. A signature image of The long day ends (setting the scene for key moments in Kenneth Branagh's film Belfast and that of Sam Mendes Empire of Light) finds a young boy on the balcony of his local cinema, gazing in wonder at the wonders unfolding before him.
Years later, sharing a port and lemon at the Da Wheel bar in Shetland, where he was the guest of honor at the Screenplay Film Festival, Davies remembered something he had said to me that day- there in Liverpool: that for him, the "ecstasy" of cinema had always been "like a religious experience". It was completely ecstatic because I really believed what I watched.
I can't think of a better description of the transporting magic of films or the invigorating wonder of Terence Davies.
All titles are available for rental on multiple platforms unless otherwise noted.
What else do I enjoy?
Each for himself and God against all: a memoir
From his bold description of the entire 20th century as "a mistake" to his declaration that he can only learn from bad films (the great ones remain "an enigma"), Werner Herzog's latest tome is delightfully frank. Stories of strong women, crazy actors and random filming ("a bit of local folklore") rub shoulders with great philosophical provocations ("the culture of complaint disgusts me") and apocalyptic predictions ("I imagine a diversion radical of thought"). , argument and image") for a page-turning effect.
Cinema Unbound: The Creative Worlds of Powell and Pressburger
The BFI's celebration of the great cinematic duo's enduring legacy includes restorations, re-releases and exhibitions and is a stunning reminder of the extraordinary talents behind Black narcissus, Red shoes, a question of life and death and more. Runs until December 31.