Naomi Alderman, author of the bestselling novel The Power, is just getting over Covid and feeling a bit wiped out. "But don't worry, I still seem able to talk for England," she says cheerfully from her home in north London, when we meet to talk about her new novel The Future. "I figured I might as well let people know that I'm an ambitious writer," she jokes of her punchy titles. Our conversation ranges from the Old Testament ("I like Genesis much more than I like Leviticus") to QAnon ("a new religious belief") and AI, as well as private griefs and the unfolding tragedy in the Middle East.
The 49-year-old describes herself as a "games writer turned novelist": she co-created the Zombies, Run! app, which has 10 million users, "to make exercise a bit less bloody boring". Just as she aims to keep people running, so she writes to keep people reading, taking the pacy, wildly inventive possibilities of gaming into her novels. Whereas Iris Murdoch used to write fiction in the mornings and philosophy in the afternoons, Alderman does books in the mornings and games after lunch – and she's currently doing an Open University MA in classical studies, for good measure. "My trouble is I'm interested in everything."
Tucked away off an arterial road, her Tardis-like home, which she shares with her partner, a pilot and software engineer ("we are both nerds"), is testament to her eclectic interests: a huge photograph of a forest covers two floors as you go up the stairs to a landing carpeted with artificial grass: "The only right place for fake grass is inside your house," she says. Instead of a mirror in the toilet is a framed quote from Kurt Vonnegut urging you "to please notice when you feel happy".
We begin in the book-crowded living room, with Alderman sitting cross-legged on the daybed, and move into her kitchen while she has her makeup done. She has arranged for a makeup artist ahead of the photoshoot. "You have to know what you aren't good at," she says practically. Pinned to the bookcase is a black and white photograph of Alderman with Margaret Atwood, her mentor back in 2012; Atwood is looking upwards in mock prayer. "I think she was praying for me to shut up," Alderman laughs. "If you are a writer is there any greater gift in the world?" she says of the mentorship. "It changed my life."
"Go big or go home," one of the characters says early on in The Future, which might be Alderman's motto. And the new novel is about nothing less than the end of civilisation. She doesn't do small-scale domestic fiction: "Woman picks up a teacup. Turns it over. Realises her marriage is lost," she croons wistfully. Alderman's women just smash all the crockery. While her first three novels – Disobedience, The Lessons, The Liars' Gospel – were more personal, they still tackled big questions of religion and sexuality; The Liar's Gospel stars Jesus as "an inconsequential preacher".
But it was her fourth, The Power, published when she was 42 and dedicated to Atwood, that set her career alight. A dazzling work of speculative fiction in which teenage girls are suddenly able to electrocute people at will, it won the Women's prize in 2017, topped Barack Obama's list of favourite books and was streamed as a TV series earlier this year, for which Alderman was one of the screenwriters.
With its message of female empowerment – young women taking revenge for sexual abuse into their own hands – The Power landed just as the #MeToo movement was gaining momentum. "If you hang out with Margaret Atwood long enough, you become a witch," Alderman jokes of its prescient timing. Now, after seven years, she is back with The Future, another spin on the ways in which power corrupts in a whopping eco-techno-thriller that brings together a bunch of Silicon Valley billionaires, a rewriting of Sodom and Gomorrah with chat boxes, a fundamentalist doomsday cult called the Enochites and a lesbian love story.
The idea came to her after reading a piece about the doomsday bunkers of the super-rich in 2017. She was immediately reminded of Lot in his cave – she thinks of her knowledge of biblical stories as a kind of "superpower": "I thought, I know exactly what this story is: it's a story of people who believe they can be the sole survivor," she explains. "That kind of intense selfishness that leads you to think you might be fine if there's a global environmental catastrophe. They need to know how that ends up, which is very badly. There is not a scenario in which you destroy the planet but are fine." As a writer, she likes to take the long view: "I am interested in the deep past, and then as far into the future as I can possibly look. I love the sense of perspective – it's the only scale where you can find some solace."
As Atwood likes to say, all dystopias "are a version of now" and it is not hard to spot the real-world prototypes for Alderman's improbably named tech tycoons Lenk Sketlish and Zimri Nommick. As with The Power, she would channel everything she saw on the news into her writing, but sometimes reality outdid fantasy, such as when Elon Musk challenged Mark Zuckerberg to a cage fight. "I wished I thought to put that into the novel," she says. "There is nothing I could come up with that would be as ridiculous as the stuff they actually do."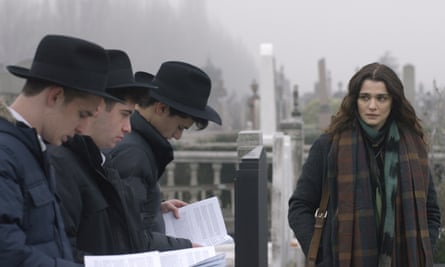 If the question at the centre of The Power is, what if women were physically stronger than men? The Future asks, is there a way out of today's omnicrisis, Alderman says, listing off the climate emergency, online abuse, increasing inequality and wealth disparity, national identity crises around the world, technology revolutions and the threat of AI. "Have I forgotten anything?"
In fact, when she began writing in 2017, the disaster scenario at the heart of the novel was a global pandemic. "I thought, we haven't had one of those in a while." By 2020 she had a first draft. "I was having fun with it. It was too glib. So I dumped it." Alderman has form here, having trashed 200,000 words of what would become The Power, and a hunk of her second novel The Lessons. "I now feel like every first draft is potentially just something I'm going to junk and then find some new way through."
On the second run, she set out to write a novel about the future that was hopeful: "I thought, God, nobody wants a pessimistic novel now and I don't want to write one. I would like to try and use my magical powers for good and write something where we can go, 'Look, there are ways out of all of this, things do not need to go from bad to worse. We have all of the resources, technological and economic and even social to fix it, if we just have the will to do it.'"
Alderman grew up in Hendon, north London, in the 80s and 90s. For an Orthodox Jewish girl who knew the names of all the Doctor Who companions off by heart, and studied English, maths and Latin A-levels (as well as learning Esperanto via a correspondence course), it wasn't always easy, she says, especially at a time when teenage girls were expected to look like Kate Moss. "There isn't anybody who was more uncool than me." Her father was a leading expert on Anglo-Jewish history, her mother an artist and graphic designer (her paintings hang in the hall), and Alderman was raised in an environment that was at once "very intellectually open and pretty fundamentalist", which is "very complicated".
Her uncle killed himself when she was 14, which had a profound impact on her father, and, as she has mentioned in a previous interview with this paper, she was also abused by a family friend. "Please do put his name," she urges. "Because it is not my job to keep his name a secret. And he's been dead for 30 years, which was the nicest thing he ever did for me." He was Sidney Greenbaum, a respected academic who was charged with the indecent assault of young boys in 1990. Her parents were horrified when they found out. "This is how grooming works: you don't just groom the child, you groom the parents, or in the case of Jimmy Savile the whole country," she deadpans.
She was relieved to escape to Oxford University, where she studied philosophy, politics and economics alongside Liz Truss. They were exact contemporaries, "but don't think from that that I know nothing about economics", she quips. She also encountered acts of petty bullying. "I was living in an authentic medieval building having some authentic medieval experiences of antisemitism." She was to later draw on her bumpy undergraduate years in her second novel, The Lessons.
After a stint as a PA for a children's publisher, she edited publications for an international law firm in New York. The shock of 9/11 led her to hand in her notice and return to the UK to take a place on UEA's prestigious creative writing MA, where she began what would become her first novel, Disobedience, about a rabbi's daughter who returns to Hendon from Manhattan and begins an affair with a female friend. Published in 2007, in the wake of novels such as Zadie Smith's White Teeth and Monica Ali's Brick Lane, which showed London from different cultural perspectives, it was praised for its portrait of the Orthodox Jewish community and was made into a film starring Rachel Weisz in 2017.
Alderman had Jeanette Winterson's fictional account of discovering her sexuality in a religiously fundamentalist household, Oranges Are Not the Only Fruit, in mind while she was writing it. "I have had relationships with women, I am currently in a relationship with a man," she says now. "I like writing about women and if you write a lesbian relationship you get to write about two women. Also I think there's probably enough heterosexual romance out there."
But Disobedience was not so much a coming out novel as a breakup book. It marked the beginning of her literary career and the end of her faith. The minute she finished the novel, she thought: "'Oh, I think that's done now', in the way that you might about a relationship – like the woman with the teacup." While the realisation was sudden, the process of "unravelling and reknitting the self" was not. "It was the big event of my 30s." It has taken 20 years of therapy "to figure out how to put myself together again".
Alderman recalls a dream in which she was living in a house made of trees, with a canopy of leaves overhead but the roots were dead "and there was death travelling up the trunk". "Maybe you can take cuttings," her therapist suggested. "And that is what I've done. I think my life is full of cuttings," she says, giving more insight into the photograph of trees in her hall (Etz Chaim – "tree of life" – is also an important Jewish symbol, she reminds me). "I'm at really quite a peaceful place with it these days."
But the years since the publication of The Power have been difficult. The last time she had her makeup done was for the launch of The Power TV show in New York in March, earlier this year. Her mother was very ill in hospital back in London and her funeral took place on the day the show came out. "That's been my year."
Another "tough, private grief" that contributed to the long delay between novels was the loss of a number of pregnancies, a sadness she feels women should be able to speak about more openly. "It would be nice if we were able to say, 'I've just lost a baby' and people know how to respond, just as they know how to respond to 'My mother just died,'" she says. "But you end up not telling people because you're frightened that somebody's going to say something hurtful when you're just a single, raw throbbing nerve."
She believes it is a writer's duty to speak out. "The job is courage. The job can also be entertainment and there's nothing wrong with that, but if you are writing about real things, you've got to be as honest as you possibly can." Years ago, after seeing a performance of Noël Coward's Design for Living, she wrote down a quote and has pinned it above every desk she has worked at since. "If you are a writer you must write what you think otherwise you are a liar and a hypocrite," she recites from memory. She is infuriated by writers claiming they are being "silenced"; she continues: "If you have the luck to be a writer in a country where nobody gets imprisoned or tortured or murdered for their writing, it's an insult to the people who are suffering. And it is an insult not to use your ability to speak and say the things that might be difficult to say in other places."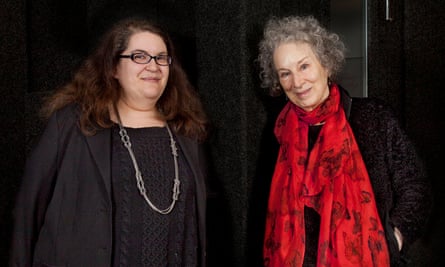 One crisis Alderman didn't expect to be talking about was a new war in the Middle East. Four of her cousins have been called up to join the Israeli army. "I'm obviously devastated," she says of the conflict, and "repulsed" by the response of some on social media. "The number of people who seem to feel that they can tell the difference between children who shouldn't be murdered and children who if they die, that's legitimate. No children should be murdered. I didn't know that was controversial." She feels the international community needs to take more responsibility for past failures in the region. "I don't think anybody in Palestine or Israel right now is in an emotional place to be able to work towards peace and solutions. If your children are dying in the rubble of bombs, or if your children have been kidnapped or murdered by violent incursion, you're not in a place to come up with the way out."
She has already started working on a new project, partly about her mother's death, but also, being Alderman, about a strange new badger-sized animal that has appeared all over the UK. "Since Mum died I've just got so many words inside me that need writing," she says. "I have to be writing something every day because that's how I metabolise the world."
She also wants change. Where a dystopia makes readers feel "incredibly grateful" for the world in which we live, Alderman wants us "to feel slightly disappointed, which hopefully is a little motivator to do something a bit differently, to change something. Or at least think differently."
Does she feel hopeful that we can make these changes? "You are not obligated to complete the work, but neither are you free to desist from it," she replies, quoting a famous Jewish saying. "Which is to say, we're not going to fix all these problems in my lifetime or yours or probably anybody reading this. But that doesn't mean that we're allowed to just down tools and sit in the ashes and cry. We've got to keep getting on with it." Or put another way, she adds: "I think there's a moral imperative to be hopeful because otherwise we are really fucked." The makeup artist hands her a mirror and she gives a megawatt smile.