Key events
35th over: Sri Lanka 196-5 (Asalanka 65, De Silva 21) Taskin replaces Tanzim and sends down an economical over, one from it, then De Silva stands and delivers, waiting to dismiss a short, full one from his countenance, for four through midwicket. The partnership is 61 off 64, and so far the dismissal of Mathews has worked quite nicely for the Lankans.
"He was in fact ready to bat, THEN noticed his strap,' writes Peter Metcalfe. "Three minutes normally, two minutes in the World Cup, but irrelevant as he was ready at some point."
Also, Shakib is hardly Patrick Patterson. Face one ball, then deal.
34th over: Sri Lanka 191-5 (Asalanka 64, De Silva 17) Shoriful replaces Miraz, ceding two singles and a wide. Back to the spirit thing, I don't buy that the players have a responsibility to the game – the game is fine. Rather, the responsibility is to themselves, and they made the choice that they wanted to win regardless. De Silva then takes two to backward point and though the throw breaks the stumps, a review reveals he was well back.
33rd over: Sri Lanka 186-5 ( Asalanka 63, De Silva 15) I'm enjoying Asalanka a lot, and he pulls Tanzim's first ball to square leg for four, then aborts a quick single; with a direct hit, he was in trouble. Instead, though, he waits for one and cuts behind square on the off side for four, and I don't know what I'd do if I was him: on the one hand, he needs to stay in, but on the other, everything he hits is staying hit. And have a look! After a single, De Silva goes to pull a bouncer and top-edges four more, a single follows, and that's 14 from the over, the fifty parthership raised . There's scope for a big score here, but Bangladesh will doubtless be plotting a handled ball or hit-ball-twice dismissal for their next trick.
32nd over: Sri Lanka 172-5 ( Asalanka 54, De Silva 10) Below is the law in question; imagine the fury in the Long Room! What a shame SJ Broad wasn't somehow involved, bets he's bristling somewhere in the world. Miraz twirls through his seventh over, three singles from it, and quietly, because we're all still debating the Mathews dismissal, Sri Lanka are setting for an onslaught – but they really mustn't lose another wicket.
31st over: Sri Lanka 169-5 ( Asalanka 52, De Silva 9) Two singles, then Asalanka – who is seeing and timing it gorgeously – steps down, then flicks a pull for four, raising his fifty in the process. He's looked in flow from the moment he arrived at the crease, his hitting so clean. Drinks, and I daresay if I was Shakib, I'd be checking mine for goz and such.
"Players have numbers rather than names on their shirts/jerseys for several reasons," says John Starbuck. "1) Some names are too vast to be squeezed into the space available; 2) Some names are duplicates of other players' (especially considering the dynasties which do exist here and there); 3) It makes it easier to refer to them on scoresheets and some scoreboards, especially unfamiliar players; 4) Some people just prefer numbers to deal with, which is despicable.
However, I do wonder why, in the Test series, the player numbers are their own preference or a deliberate joke (like Root 66), yet there is a standard way of numbering them i.e. their rank in order of all Test players for their country, which tends to appear on caps or as a shirt 'badge'. Why this isn't the best option I do not know, though I suppose it's apposite if playing with non-Test members in other competitions."
I guess because the numbers are too high, on which point is it just me who calls Jimmy Anderson Taryag, the Hebrew way of expressing 613 – his number, and also the number of commandments in the Bible.
30th over: Sri Lanka 162-5 ( Asalanka 46, De Silva 8) We learn that the MCC laws allow three minutes but the playing conditions stipulate two; that was the reason for the delay in Mathews' dismissal. De Silva runs four to deep third, the only runs from the over, and this partnership is away.
"Shaqib obviously didn't read your preamble to the game," returns Andrew Cosgrove. "'and, if nothing else, today is a chance to enjoy while we still can the terrific Angelo Mathews'."
On the contrary, he's done it to spite me.
29th over: Sri Lanka 158-5 ( Asalanka 46, De Silva 4) Had Mathews faced one ball without a helmet, or borrowed Asalanka's, could he have then waited as long as it took to get another? We see the footage again and it seems the strap broke, which doesn't seem a good reason for a wicket; I know Shakib's side have to bowl their overs within the time, I'm enjoying the rancour and the laws are the laws, I'm a little surprised he wasn't allowed to sort the issue because who wants the aggravation of winning like that? Asalanka drills two to cover then coaxes four down the ground, and he is now the key man.
The ball hit Asalanka on the glove. In the middle, stares are exchanged.
That came quickly. Was there bat involved?
WICKET! Asalanka lbw b Miraz 39 (Sri Lanka 151-%)
When Asalanka sweeps and misses, Miraz hits his pad, and he's got to go!
28th over: Sri Lanka 149-5 ( Asalanka 38, De Silva 3) Two singles from Miraz's first three balls…
27th over: Sri Lanka 149-5 ( Asalanka 38, De Silva 3) Three singles off this latest Shoriful over, but seriously, Angelo Mathews, timed out! I remember going to see Lancashire at Lord's in 1991 and when they were 4-4, someone in the crowd shouted "timed out" after Mike Watkinson was a little slow coming in. I laughed, but never thought I'd actually see it happen; this game! Asalanka spanks another splendid six over long off, then three singles follow, and we hear that Mathews is indeed the first player to be timed out in men's international cricket.
26th over: Sri Lanka 137-5 ( Asalanka 29, De Silva 1) Kusal is on the rope investigating, but the call's been made and this is Sri Lanka's last recognised batting partnership. I fear another spirit of cricket handwringing is upon us, and I understand it: does Shakib really want to win like this, via wardrobe malfunction? I guess he does, and though we'll be told this is bad for the game, the intrigue and controversy will do it no harm whatsoever, in mine.
WICKET! Mathews timed out 0 (Sri Lanka 135-5)
This is not good for the game! This is so good for the game! Mathews is not ready to face a ball within two minutes of coming out because his helmet's strap is jiggered, so Shakib appeals and that's that! I'm a little surprised he wasn't more understanding, but elite sport is elite sport; fail to prepare, prepare to fail, and out of nowhere, Sri Lanka are in big trouble! Controversy! History!
25th over: Sri Lanka 135-4 ( Asalanka 27, Mathews 0) This is a crucial partnership, Asalanka in and Mathews the man for the big occasion. I can't believe how readily Samarawickrama just gave his wicket away – he'll be angrier than Jim McDonald with a hangover, so he will – but before the game can continue, there's a delay as Mathews appears to have brought out the wrong helmet. I'm not certain what's going on here, perhaps a problem with its strap, no replacement arrives within the allotted two minutes, and Bangladesh appeal for timed out! I've never in my 40+ years watching this crazy sport seen anything like this!
WICKET! Samarawickrama c Mahmudullah b Shakib 41 (Sri Lanka 135-4)
Wickets at regular intervals! This time, Samarawickrama look high to midwicket but instead picks out deep square, through the shot early as the bowler gives him no pace with which to play, and after building the platform, he's got to jump off it!
25th over: Sri Lanka 135-3 ( Samarawickrama 41, Asalanka 27) Samarawickrama's seen enough, down on one knee to flick Shakib over short fine leg for four
24th over: Sri Lanka 131-3 ( Samarawickrama 37, Asalanka 27) Shakib brings back Shoriful in the search for a wicket. Samarawickrama flicking to deep square for one. Two further singles follow, and we are well and truly ensconced in the Middle OversTM.
23rd over: Sri Lanka 128-3 ( Samarawickrama 35, Asalanka 26) Shakib's into his fifth over now, and its first two deliveries are taken for singles, likewise his sixth, and this is building, the batters keeping thing moving ahead of a planned assault perhaps seven overs from now. Off topic, but is there a reason cricketers have numbers? Why would a name not suffice?
22nd over: Sri Lanka 125-3 ( Samarawickrama 33, Asalanka 25) Asalanka takes one to point, then Samarawickrama steps down and squirts out one fired wider, for four through point. That's the fifty partnership, off 53 deliveries, and three singles augment it further.
21st over: Sri Lanka 117-3 ( Samarawickrama 27, Asalanka 23) Bangladesh could really do with breaking this partnership. but Shakib won't mind being milked for four singles too much. The run rate is 5.57.
"A good example of 'You think you know what a big hole looks like' is Mount Vesuvius," writes Krishnamoorthy V. "And one of my friends (Ramki) posed this question to me once and maybe you are the best person to answer it. If way outside the stumps is called 4th or 5th stump in one direction (may be offside for an RH batsman), do we count the leg side as 0, -1, and so on…….."
Ha, I guess we already have terms for that, such as "filth", "dross" and "expletive".
20th over: Sri Lanka 113-3 ( Samarawickrama 25, Asalanka 21) Samarawickrama takes one to deep square, then singles to midwicket and backward square complete the scoring for the over, five off it.
Too much spin! I thought it was going over, but actually it was turning past leg stump.
I think this is bouncing over…
20th over: Sri Lanka 110-3 ( Samarawickrama 23, Asalanka 20) Samarawickrama sweeps Miraz to fine leg and they steal a second, Tanzid chasing and hurling in, but too slowly for Mushfiqur to gather and break the stumps before bat appeared in crease. What's this though? Sadeera comes down, looks to turn around the corner, wears ball on pad, and there's an appeal … rejected.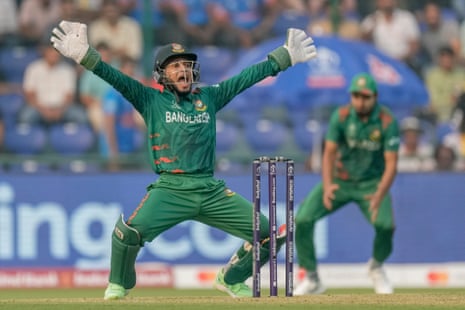 19th over: Sri Lanka 108-3 ( Samarawickrama 21, Asalanka 20) A lad in the crowd caught that Asalanka six – excellent take, and he absolutely loves it. This latest Shakib over cedes three singles, and Sri Lanka are looking good.
18th over: Sri Lanka 105-3 ( Samarawickrama 19, Asalanka 19) Nice from Samarawickrama, waiting for Miraz to hit him inside-out over cover for four – a lovely way to raise his team's ton – before sweeping fine for four more! A single follows and the partnership is 33 off 32. I very much like the look of that which I'm seeing.
17th over: Sri Lanka 96-3 ( Samarawickrama 10, Asalanka 19) It feels a long time since Sri Lanka won the World Cup, doesn't it? I guess that's because it is, but what a side that was, Jayasuriya and Kaluwitharane opening, Aravainda at four, Murali and Vaas in the attack. And Kumar Dharmasena! Anyway, a one and a two, then Asalanka comes down to Shakib and strokes six over long off! He's making it look very easy out there.
16th over: Sri Lanka 87-3 ( Samarawickrama 9, Asalanka 11) Miraz's off-breaks into the attack and his first four deliveries yield three singles; tow further dots follow.
15th over: Sri Lanka 84-3 ( Samarawickrama 7, Asalanka 10) Asalanka hammers to deep point and they run one, then Samarawickrama does similarly. But have a look at this! Asalanka clears the front pad and picks up what he turns into a slot-ball, hoisting six over long on! The crowd, though, aren't desperately keen to return the globule so there's a minor delay, after which come a dot then drinks.
14th over: Sri Lanka 76-3 ( Samarawickrama 6, Asalanka 3) Shoriful returns, which makes sense; if he's going to be expensive, the time to bowl him is now, with two new men at the crease. Samarawickrama takes one to point, then Asalanka pushes down the ground; they run three, Hridoy chasing, diving, and flicking away from the rope.
"How's the smog?" wonders Andrew Cosgrove – it's fine in north London, thanks. "I saw rumours a few days ago that this match was in danger of being called off because of the air quality, but I guess it would have to get to the point of players passing out for that to happen (there was also talk that a lot of the players in these two sides have asthma so haven't been able to train the last couple of days).
I know exactly what you mean about the Taj Mahal. It's a bit like Uluru, in that respect – you've seen so many photos of it, you know exactly what it looks like, but that still doesn't prepare you for actually being there and seeing it close up.
My other top tip for Agra is Akhbar's tomb. It's almost (although not quite, obviously) as spectacular as the Taj, but at least when we were there there were only about twenty other people, which improved the experience considerably."
The Grand Canyon, by far the best natural wonder I've seen, is the other thing I've seen that fits into this category. You think you know what a big hole looks like; you do not.
13th over: Sri Lanka 72-3 ( Samarawickrama 5, Asalanka 0) Tanzim is into this, producing a serious rock to beat Asalanka first up, a bit of movement off the pitch beating the outside edge.
WICKET! Nissanka b Tanzim 41 (Sri Lanka 72-3)
Huge breakthrough! Test-match bowling from Tanzim, length on fifth stump, and eventually Nissanka went at one he should've left, dragging on, and Bangladesh are on top now! What a World Cup debut from the bowler!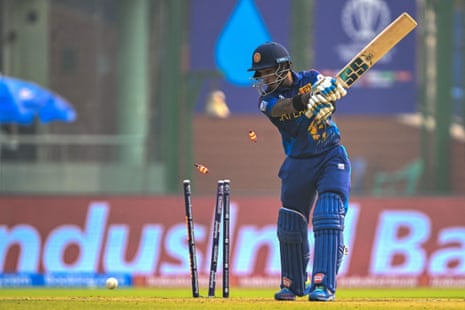 13th over: Sri Lanka 72-2 ( Nissanka 41, Samarawickrama 5) Samarawickrama flips two to square leg, then takes one to cover.
12th over: Sri Lanka 69-2 ( Nissanka 41, Samarawickrama 2) Three more singles, but Bangladesh will be glad to have broken that partnership.
WICKET! Mendis c Shoriful c Shakib 19 (Bangladesh 66-2)
Mendis waits then tries to go at a slow one but doesn't get enough of it, Shoriful running around the fence from long on and sliding under a decent catch. The Sri Lanka skipper never looked comfy at the crease, and now he's back in the hutch.
12th over: Sri Lanka 66-1 ( Nissanka 40, Mendis 19) Shakib tosses the ball to himself and concedes singles off his first two deliveries.